Avid Systems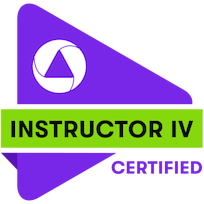 We are Certified Instructors for the workflow-based Avid systems. That are:
MediaCentral | Cloud UX and its backend platform
Newsroom Management / iNEWS
Asset Management / MAM
Shared Library
Production Management / Interplay
For the Asset Management, we qualified as the Master Instructor. We design and create curricula and courseware for all Asset Management classes.
Alfresco

We are Recognized Developers for Alfresco and we performed a dozen training sessions and workshops for developers and administrators.
Your Systems
Teaching is our core competence and passion. Of course, we need to speed up ourselves when we have to deliver new topics. But that's our business for many years now and we are great in that!
So don't hesitate to contact us when you look out for a training resource.
We turn your lessons into an exciting time, entertaining and astonishing, while nonetheless explanative and mind-opening.