Overview
Originally built as an extension to print those reports, one can view the result in Adobe Acrobat and process it from there, or send it as email straight out of the PrintClient.
Even printing (converting into PDF) a single or multiple selected stories in any format with any layout is fully supported in the Hmedia PrintManager.
The PrintManager works as a client-server system. The PrintClient offers the UI while the PrintServer reads data out of iNEWS and processes those data to the final document.
Failover configurations are available as well as covering multiple iNEWS systems by the same PrintServer.
And of course the PrintManager respects any host configuration of an A/B dual iNEWS configurations.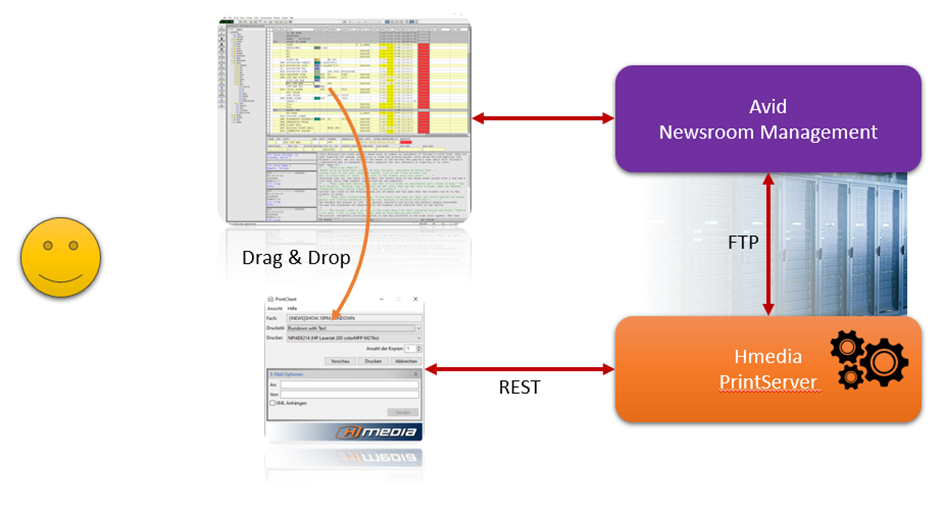 Due to the modular architecture of the PrintManager, it can easily be adapted to process XML documents from other sources than iNEWS. The output is not limited to PDF; it can be PostScript, SVG, Bitmap or Plain Text as well.
PrintServer
The PrintServer is developed as a Java Enterprise Web Application. It runs in any Application Server like Apache Tomcat. It communicates with the iNEWS databases via FTP and offers its services on a RESTful interface.
XSL transformation is used to create certain layouts.
PrintClient
The PrintClient comes as a Java-based program for the main functionality. This program is wrapped by a .NET program enabling native Windows look and feel.
There is a second component available – the PrintClient ClipboardMonitor. That tool offers simple and straightforward print triggering from within the iNEWS client.
Software
Version 3.2.2
With this link you can download the software package of the current version. The ZIP file contains both, the PrintServer to be installed in a Java Application Manager like Apache Tomcat, and the PrintClient installer to run natively on Windows 10 or 11.
The Software doesn't come with a license. While able to install, you will not be able to process any PDF conversion on the PrintServer side.